Looking for innovative technology for use in your home? We'd love to help! Call 717-723-9080!
Whether you have an Amazon Alexa or a Google home device, technology is leaning further and further into voice-activated things for your home.
Security Camera
Security cameras have come a long way and they've become even more discreet for use in your home.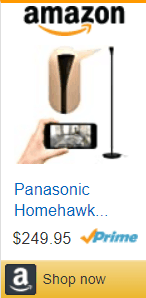 The Panasonic Home Hawk Floor brings new technology to internet security in your home featuring color night vision and also motion activation with video recording. This unique product can bring security to the interior of your home & discreetly blend into the decor in your home. It can also be controlled with your Google assistant or your Amazon Alexa.
Washer & Dryer
Looking to make your laundry washing more efficient and high tech?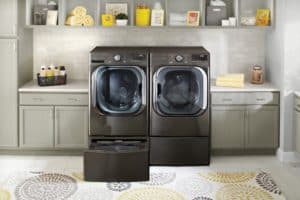 Check out the LG thin IQ, front load, washer & dryer. The machine can sense how much detergent is needed, the volume of the load & sets everything accordingly. It can also give you notifications when it's getting low on detergent & needs you to reload.
Smart Trash Can
While we've had these for some time in some capacity, the technology has evolved even further.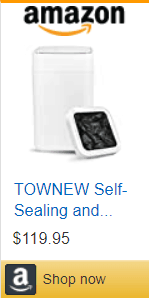 Knectek Townew smart trash can,  actually notifies you when the trash is full by sealing up the bag, opening your trash can and when you remove it, it automatically replaces the liner.
Smart Cabinet
Looking to secure your valuables perhaps during a home showing? The Yale smart cabinet is a new one this year and can be locked and unlocked remotely for access to your valuables.
For Your Pet
We know you'll have pets at home who sometimes need to get out for a potty break when you're not home.
This new technology from wayzn is a smart sliding glass door opener that actually goes on the track of a standard sliding door. It can notify you when your pet is at the door. Then you can decide whether or not to open the door for access for your pet to exit, take care of their business, and come back into the home.
Kitchen Hub
Looking for some entertainment while you're cooking or spending time in the kitchen?
Check out the GE kitchen hub.You can stream Netflix, get recipe ideas and get suggestions on modifying your temperature to cook things more effectively.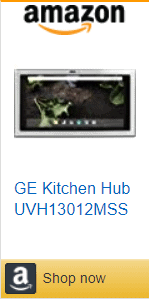 Light Switches
GE was honored this year with an innovation award for their lighting switches, which can bring new lighting features to older homes. C by GE 3-wire smart switches – perfect for modernizing lighting for older electrical systems – are easy to install, and don't require a neutral wire or hub to connect to! And of course, they're compatible with Alexa or Google home. They're available in: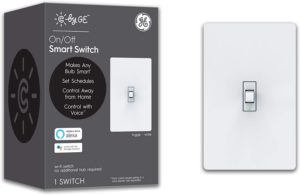 Classic Toggle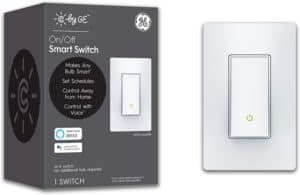 Paddle Switch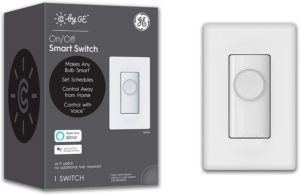 Push Button Switch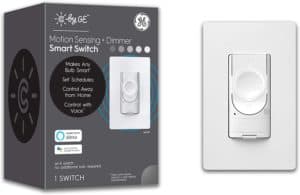 Motion sensing + Dimmer Switch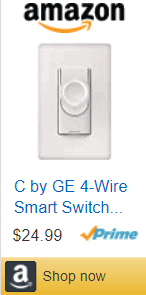 Vacuum Cleaner
Of course, one of my personal favorites is my Irobot Roomba vacuum cleaner. You can get the version that allows you to control it remotely from your app. So if you're leaving work and somebody is coming over, you can just hit start remotely and come home to clean floors!  There's several different models available here.
Lock
If you're looking for new security and smart technology for your front door or any exterior door, you may want to check out Lockly's new smart lock.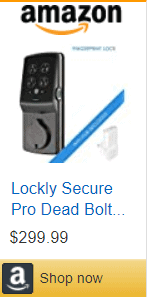 It's a wireless solution that you can operate remotely. You can open with a finger scan, a digital key or provide a temporary code for guest access. This lock also features a built-in video doorbell so that you can also see who's coming and going from your home. It also provides two-way communication, just like the ring video doorbell, which I referenced earlier, and which we have installed in our home.
Emotional Support
And lastly, if you're looking for something interesting, you may be interested in a fake companion. That's right. There's now a robot dog. This furry friend is known as Tombots Jennie. It's known as a robotic emotional support animal. It looks just like a golden retriever puppy, and it's thought to be great for people who have dementia or are otherwise unable to care for a real pet. The dog wags its tail, barks and responds to touch just like a real dog. It even responds to voice commands.
"Hi friends -Jennifer here. As I always believe in full disclosure and total transparency, I am an affiliate marketer & as such, 'could' receive a benefit for referring business to the vendors above. (but who DOESN'T love shopping with amazon?!). Rest assured that when you choose to purchase using the links in my blog, the cost to you is exactly the same as going to amazon directly. The companies 'may' choose to compensate me separately should you purchase."