I'm in love! This produces the PERFECT espresso & coffee drinks & the aeroccino machine is genius!
Best single serve coffee maker!
I am totally smitten with this new addition to our home. It brews the perfect cup.every.single.time!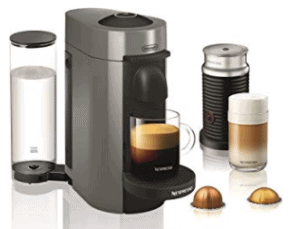 I'm an espresso fan myself (love it w/ a lemon twist)! My husband likes his coffee bold & black & my teens love their cappuccinos & other frothed milk specialties.
In the past, I've had a Keurig machine, then switched to a 1-cup / full pot machine – and this is by FAR my favorite!
Here are the pros:
1. It is QUICK. Think 20-25 seconds! No long waits for the water to warm up. Just turn it on, insert the pod & brew! NO problem serving house guests their own individualized brew within minutes!
2. The frother (aeroccino) is ingenious! It not only froths the milk – and warms it too! (My prior machine – I had to heat the milk THEN use the frother. Seems like a small detail – but it's a big time saver for me!)
3. Lots of options for coffee & espresso – varying in boldness, roast, size, etc. – and smart enough to know WHAT it's brewing – so it auto-chooses the amount of water based on the pod in place! (single espresso all the way up to a large cup of coffee!)
4. Auto shut-off. Yup – I'm "that" girl who forgets to turn off my machine! With this, it's no longer an issue! This baby auto-shuts off after 9 minutes!
5. Recyclable coffee pods. The recyclable bags are free – and easy to return w/ label included!
Cons:
1. No timer to set it to automatic brew while I roll out of bed (but per #1 above, it's all good!)
2. I accidentally ordered the wrong size pods. With this machine – you want to use the Vertuo pods. Just make sure you order the right size for your chosen machine! 🙂
You can check it out here! I'd love to hear how you like it, so feel free to comment below. (&/or add your comments about YOUR favorite coffee lover machines, coffees & accessories!)
SO – cheers, my friends! Enjoy your brew! America may run on Dunkin' –
but this gal runs on De'Longhi Nespresso brews! Cheers!
You might also like:
My "Go-To" Travel Packing List
AND more info. on all things Lancaster County (& surrounding areas) can be found on Jennifer's YouTube channel by clicking here
*Disclaimer* Jennifer here. Because I believe in full disclosure, it should be noted that I am an amazon marketing affiliate – and as such – when you purchase through my affiliate links, I may benefit (though the cost to you is no greater and there are no 'cons' or hidden fees to the consumer.) It's just a great way for me to share my favorites w/ my friends!