For those times when you're packing to travel away from home, here are some of our favorite things!
These packing cubes are the BOMB!!
Never worry about security digging through your bags again! You can fit WAY more than if you just pack it in individually without the cubes, too!!
I use 3 medium ebag packing cubes in my carry-on – one for pants (9/10 pairs), one for shirts/sweaters (9-10 of them) and a dress or two, and one for undergarments, jewelry, etc.. (Then I convert the use of one of them for dirty laundry as I travel, to keep that separate)
I literally packed 15+ outfits and four pairs of shoes for a 15 day European trip in.a.carryon! Like to see a video?
Comment below & if there's interest, I'll create one to show you the magic…! Our daughter used these cubes to pack enough mix/match wardrobe for a 3-month European trip!
No worries of lost luggage, embarrassing airport searches (as security sifts through your personal items), etc.!

I own the ebag medium and large cubes – and they come in a rainbow of colors to suit your taste/preference! I totally thought these were bogus – but I will NEVER travel without them again! They are the real deal!!
---
Never run out of phone battery! We travel with Anker!

---
We also love this multi-port Anker charger for charging the whole family at once!

Don't forget you may need international power adapters. This is what we used and love…

---
Need to do laundry as you travel? We love these for ease!
---
Don't forget! Medicine isn't always as readily available in other countries, so it doesn't hurt to pack for those 'just in case' moments!

---
Looking for a comfy travel pillow? Try these! We clip ours onto our suitcase handle – super easy!
---
We are BIG fans of packable jackets – so you're always prepared – in a small package/carrying case! Check these out! Tons of cute colors, too!


I own & love this one as it works for cool – and cooler days – lightweight enough so you don't sweat, and heavy enough that the filling provides warmth! Super flexible – AND it rolls up compactly into the travel bag & easily shoves into my backpack for daily outings.
---
Take care of your feet while you travel! We find this to be a key factor in enjoying travel when there's lots of walking involved!
I was recently introduced to Rothy's shoes – and I love them for their cute appearance & 'shoeless' feeling! They're not rigid like most shoes! And – the pointier toe version adds a 'dressy' element to whatever you are wearing. (Use my link to get your coupon & save!)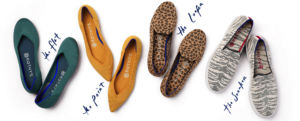 AND – did I mention – they are made from plastic water bottles AND completely machine washable! (just remove the insert!) LOVE these! Worth every bit of the investment! So versatile! I'll be purchasing more!
I was never a fan of these 'earthy' looking Birkenstock sandals…but WOW did my feet rejoice when I gave in & purchased a pair.
They were honestly one of my main 'go-to's' for foot-friendly walking – and WAY more comfortable than sneakers!
Perfect for cobblestone streets, gravel, grass (WAY more comfortable than my Nike sneakers, much to my surprise) – and yes – I even wore them for a long hike to a castle on our travels. European women have figured out that practical shoes make sense! I won't travel without them!
---


I'm a bit of a germophobe – ok – more than a bit…LOL – so I love my packable slippers! These pack so compactly and are perfect for the airplane, hotel room, etc.!

---
AND because (much to my surprise), my legs bloat when I travel on long flights – these diuretics are SO helpful to keep 'cankles' away! <wink> (& yes, I do routinely walk during flights…I suspect my water retention may be relative to being diabetic…)
---
Again – playing into my 'germophobe' tendencies – I swear by these to wipe off doorknobs, remote controls, etc..

---
These collapsible water bottles are awesome for travel! Refill when able & easily carry along!

---
Since you don't control the weather, consider one of these compact windproof umbrellas!

---
We also love the anti-theft backpack/laptop carrier! Easy to travel with – my Ogio backpack fits makeup bag, snacks, a set of clothing, a book or two, and of course a laptop, chargers, etc.!


---
Travel earphones/noise-canceling headphones – PERFECT flight companions!


We hope you've found this helpful as you've browsed our favorite travel items!
*The links above are affiliate links, so items purchased via these links "may" compensate me financially – however there is NO extra cost for you – so check them out, and shop for the items that will make your trip a breeze!*
Happy trails! Jennifer